Browse our work on terminal systems ranging from standard setups to custom jobs
Budway, located in Fontana, California, had a customer that needed to transload material that comes in VIA railcar. We installed a 4800c.f. terminal silo that allowed them to blow from the railcars off into the silo and then, as needed, load out the material to separate tanks for local customers. This turnkey system allowed them to load out a standard truck in 8-10 minutes and came 90% assembled so that their installation time was cut down drastically.
Central Concrete, based out of Iowa, needed an easy-to-assemble terminal system and wanted a capacity upwards of 400 tons of storage. This system was utilized as they were in the midst of expanding their operations, so we provided a simple, turnkey setup with dual 4800c.f terminal silos that featured a customized canopy. With this system, they were able to load material to customers in 8-10 minutes.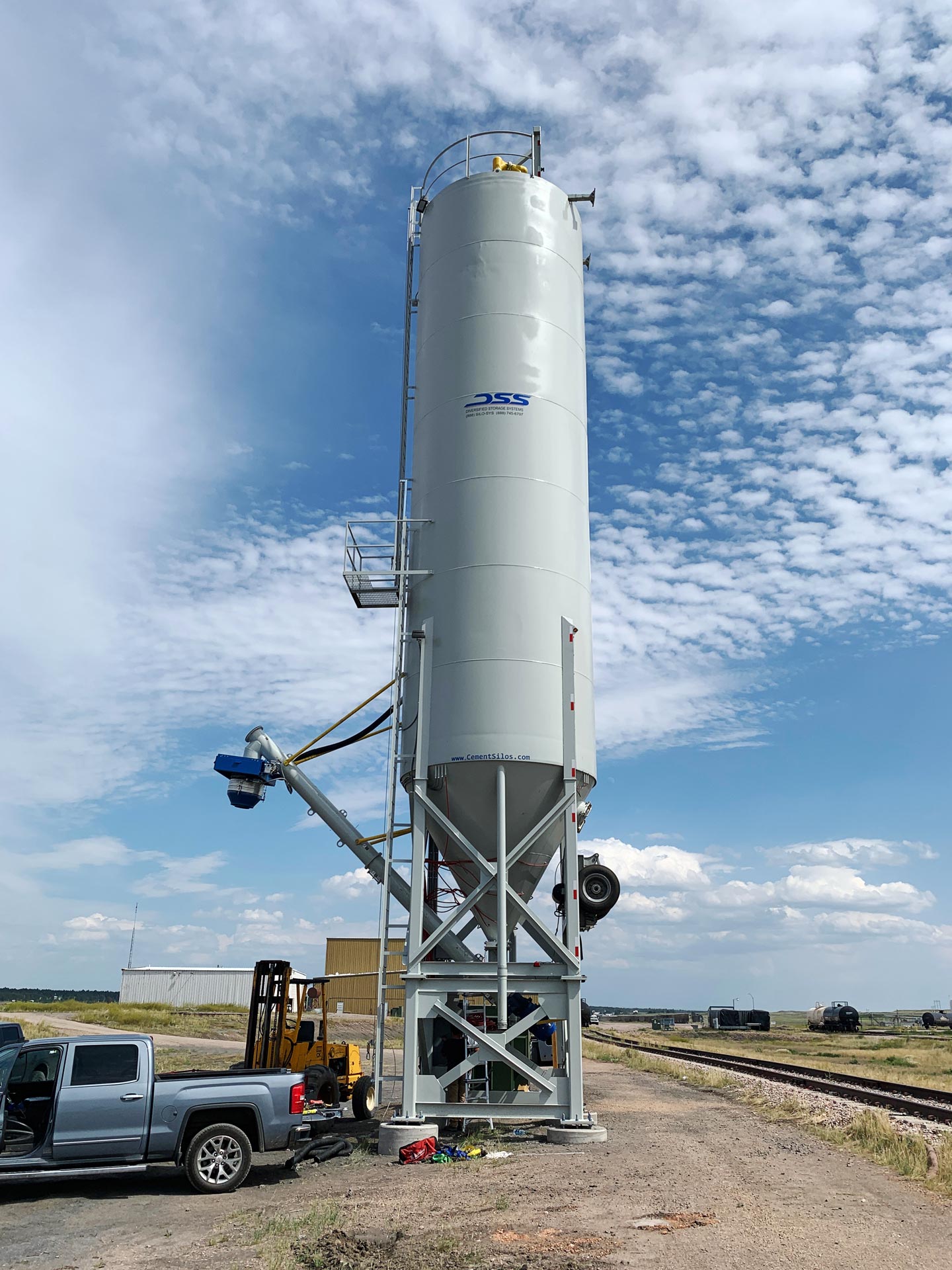 Garrison Minerals, based in Colorado but with locations all over the U.S., needed a fast, easy way to supply their magnesium hydroxide to customers. We supplied this 4800c.f. terminal silo that allowed them to bring in the material and transload it at a facility before distributing it locally.
Oklahoma Concrete, based in Oklahoma City, had a supplier that wanted to bring in fly ash via rail and then have OKC supply it. We sold them this 4800c.f. dual system terminal silo to help them easily and quickly distribute the fly ash. With a quick setup, they were able to start the process with minimal lead time.
Salt River Materials, Sacramento, CA
Salt River Materials, in Sacramento, California, needed to have a terminal to utilize for fly ash distribution. We provided an easy-to-assemble 4800c.f. terminal that offered a quick setup so that they were able to start their operations almost immediately.
Salt River Minerals, Fontana, CA
Salt Rivers Minerals used this rental for a location in Fontana, California. They needed to quickly set up a system for immediate use while they were in the process of building a bigger mixed system at another location. To meet their needs, they rented this 1400c.f. Silo unit for a 6 months span.
Ready to get started on your
next job?
Contact our team to learn more about our equipment or inquire about buying or renting your unit now.
Learn More About Our Projects
Browse some of our past projects, from a wide range of units used for common jobs to custom units built to meet particular client needs.